Small batch full spectrum hemp extract compared to CBD oil.
Full spectrum hemp extract contains the purest form of oil extracted from the hemp plant. It contains phytochemicals including cannabinoids, terpenes, and other compounds. The cannabinoids and terpenes compliment each other and work together to influence natural cannabinoid receptors in the body (CB1 and CB2). Our bodies naturally poduce cannabinoids and the full extract closely resembles them. CBD (Cannabidiol) is only one compound found in hemp and, while it is theraputic by itselt, is not the only theraputic compound in the hemp plant. Some studies claim that the full spectrum extract has more beneficial effects than just the CBD oil.
What does that mean for you? Everyone reacts differently to the extract and may get varied results. When using the full spectrum extract, there is a better chance to having positive results. In order to isolate the CBD oil, a refining process must be done which can lead to a greater expense to the consumer. This can be true when isolating and removing the traces of THC (tetrahydrocannabinol) that are naturally found in industrial hemp.
It is important to understand that, under federal laws, the THC limit for any hemp extract or CBD oil is 0.3% per volume and will not produce any euphoric effect. This is strictly enforced and regulated. We take great care in making sure we comply with all federal and state laws.
We do not claim that our hemp extract can treat or cure any conditions and we strongly suggest that you check with your physician before using it.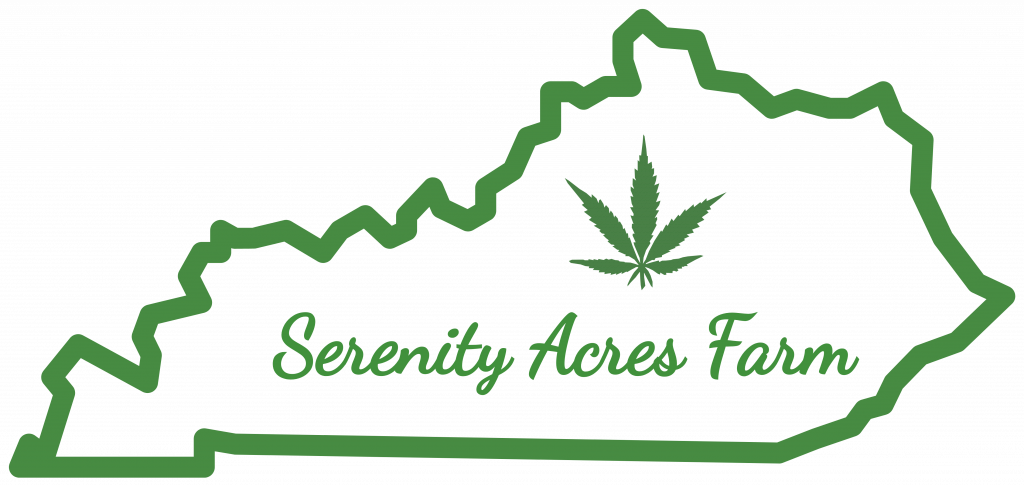 Located in Jessamine County, KY, Serenity Acres Farm has produced hemp that has been certified organically grown by the U.S. Department of Agriculture since 2015.Small batches are grown so that careful, hands on care is given from planting to harvest, resulting in a superior plant. Our products are made from a hemp strain know as T-1 or Trump. We use a plasticulture model so we can effectively control moisture, nutrient application and weed pressure. The strain was chosen for its CBD:THC ratio and terpene profile, it is also very hardy in our climate.